I am looking forward to the opportunity to serve as State Representative of KY District 62. I am committed to representing the common interests of our Commonwealth. If you are a registered Democrat, I hope that you will please show your support by voting for me in the Primary on May 22nd. Here is more information about how and where to vote.
News
Tuesday, March 20, 2018 9:52 PM
Sovkoplas Endorsed By Kentuckians For The Commonwealth
KFTC has announced their endorsements for the 2018 Primary, and I am excited to share that they have endorsed me in the Kentucky House Representative race in District 62: Owen county as well as parts of Scott and Fayette. Thank you! It means a great deal to me that KFTC and its individual members have put their faith in me. The organization is doing so much for Kentucky. I look forward to a long and fruitful relationship and to working together to make a difference!
---
Tuesday, March 20, 2018 9:44 PM
The People's Movement-United We Stand Rally
I am grateful for the opportunity to have added my voice at The People's Movement - United We Stand Rally along so many others as we fight for the futures of our teachers and our students. Education must be properly funded, teachers must be well paid for their work, training the youth who will take over tomorrow, and the pension promise must be preserved and well-managed with the interest of its beneficiaries made the top priority.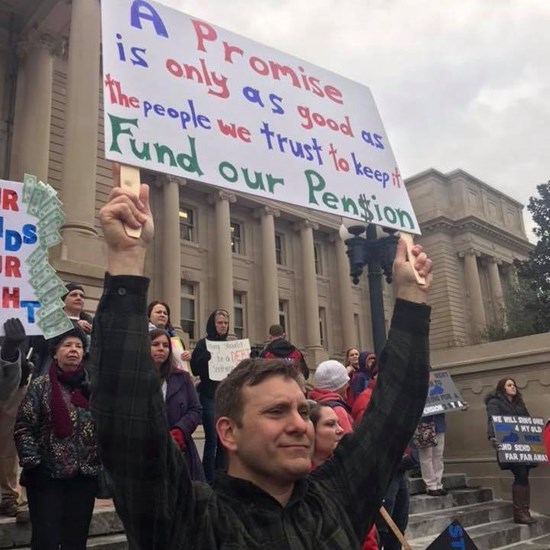 ---
Tuesday, March 20, 2018 9:34 PM
Scott County Democratic Party Meeting
On Tuesday evening, March 13, I had the opportunity to introduce myself at the Scott County Democratic Party meeting in Georgetown. Thank you to everyone for the warm welcome. I look forward to working closely with you and hope to serve as your State Representative for District 62 in the near future.
---
Wednesday, March 7, 2018 2:20 PM
Sign Painting and Prep Day for the MARCH FOR OUR LIVES
March 17th from 10am-12pm
Scott County Public Library
Please join us in preparation for the March for Our Lives - Lexington, KY hosted by the Bluegrass Activist Alliance and Moms Demand Action - KY, which will take place the following weekend on the 24th. For more information about the March, visit: Facebook Event Page

On March 17th, bring your poster board or homemade sign to paint or decorate. We will have some supplies on hand, but please feel free to bring materials to share. We will also discuss plans for those wishing to travel to Lexington to participate in the March.

We will be in meeting room E (the teen activity room).

Please come out to show your support and take a stand against gun violence in our schools.
---
Sunday, March 4, 2018 6:43 PM
Thomas for Congress Listening Tour: Scott County
March 1st
5:30-6:30pm
Scott County Public Library
"Our leaders in Washington don't do near enough listening, and Reggie wants to hear what you have to say. Everyone in or around Scott County is invited."
-Reggie Thomas
I am grateful that I had the opportunity this evening to attend a listening session at the Scott County Public Library with Reggie Thomas, who is running for the US Congress. It was a pleasure to meet him and have a chance to listen to the concerns of citizens in Georgetown. It is good to know that so many others are concerned about the pension, education, low wages, and healthcare.
-Adam Sovkoplas for District 62